Become a Member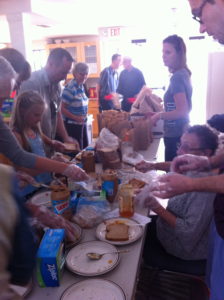 To join this Unitarian Universalist congregation is to become part of a living community. That means getting involved in its activities, identifying with it, and volunteering time to support it. Official membership is not required for participation in most activities, but there may come a time when you hear a voice inside saying, "This is my religious home. I want to support it." If so, it may be time to think about making the commitment of membership.
Why become a member?
Membership is a relationship of mutual accountability between an individual and the congregation.
Making a commitment to the congregation deepens a sense of belonging and identity.
Offering one's skills and gifts in service to the community is transformative.
Receiving needed care and support (and offering support to others) is healing.
Membership at Chalice means making a commitment to the future of the congregation.
Members are eligible to serve in leadership positions.
Members vote on congregational business at Chalice's annual meeting.
Members make an annual financial pledge to support the work of the congregation.
How do I become a member?
1. Read about membership at Chalice:
2. Fill out paperwork:
You do not need to be a member in order to pledge, be in our directory, volunteer, or have access to our wiki. Any of the forms below can be filled out and submitted by anyone connected to Chalice. But when you are becoming a member, these forms are required to be completed.
You can bring completed paperwork with you to your meeting with Rev. Sharon.
3. Schedule a time to meet with Rev. Sharon to discuss membership. You can schedule a time by using Rev. Sharon's online scheduling tool, by calling or emailing Rev. Sharon directly, or by calling the Chalice office to ask Rev. Sharon to call you back.
This one-hour meeting is a time for sharing about your religious identity and how you would like to be involved at Chalice. She will help you:
Sign the Membership card (Stating that you are "in agreement with the bylaws and purpose of the Chalice Unitarian Universalist Congregation and in general agreement with the principles and purposes of the Unitarian Universalist Association.")
Schedule your attendance at the next New Member Ceremony
NOTE: Rev. Sharon is on sabbatical leave through October 31, 2022. She will meet with congregants interested in membership once she has returned.
4. Sign the Membership Book during a New Member ceremony
This ceremony has historically been part of Sunday morning worship
We are experimenting with new days and times for this ceremony in 2022