Spiritual Practice Groups for Adults
All our groups and activities currently meet online, using Zoom. Zoom information is available to people on our email list; you can sign up for the email list at the close of any Sunday worship service. 
Chair Yoga
This yoga class is designed to share the healing aspects of yoga. Individuals exercise and strengthen their bodies in a friendly, positive atmosphere with a trained yoga instructor. Held Tuesday morning at 10 a.m. Donations are appreciated, but not required.
Women's Buddhist Study Group (weekly)
The Women's Buddhist Study Group focuses on mutual support and the practical implementation of Buddhism in order to enrich our daily lives. Our format is to check in, read aloud from our selected book, comment on, and discuss what we have just read, and then meditate for thirty minutes. Our readings about Buddhist practice and philosophy are written by contemporary writers and Buddhist teachers, and are chosen by group consensus. We are currently reading Pema Chodron's Welcoming the Unwelcome. Held every Thursday 10:30am-12pm. Newcomers welcomed. Contact Carol Bagguley at 7carolbaggs@gmail.com.
Yoga (weekly)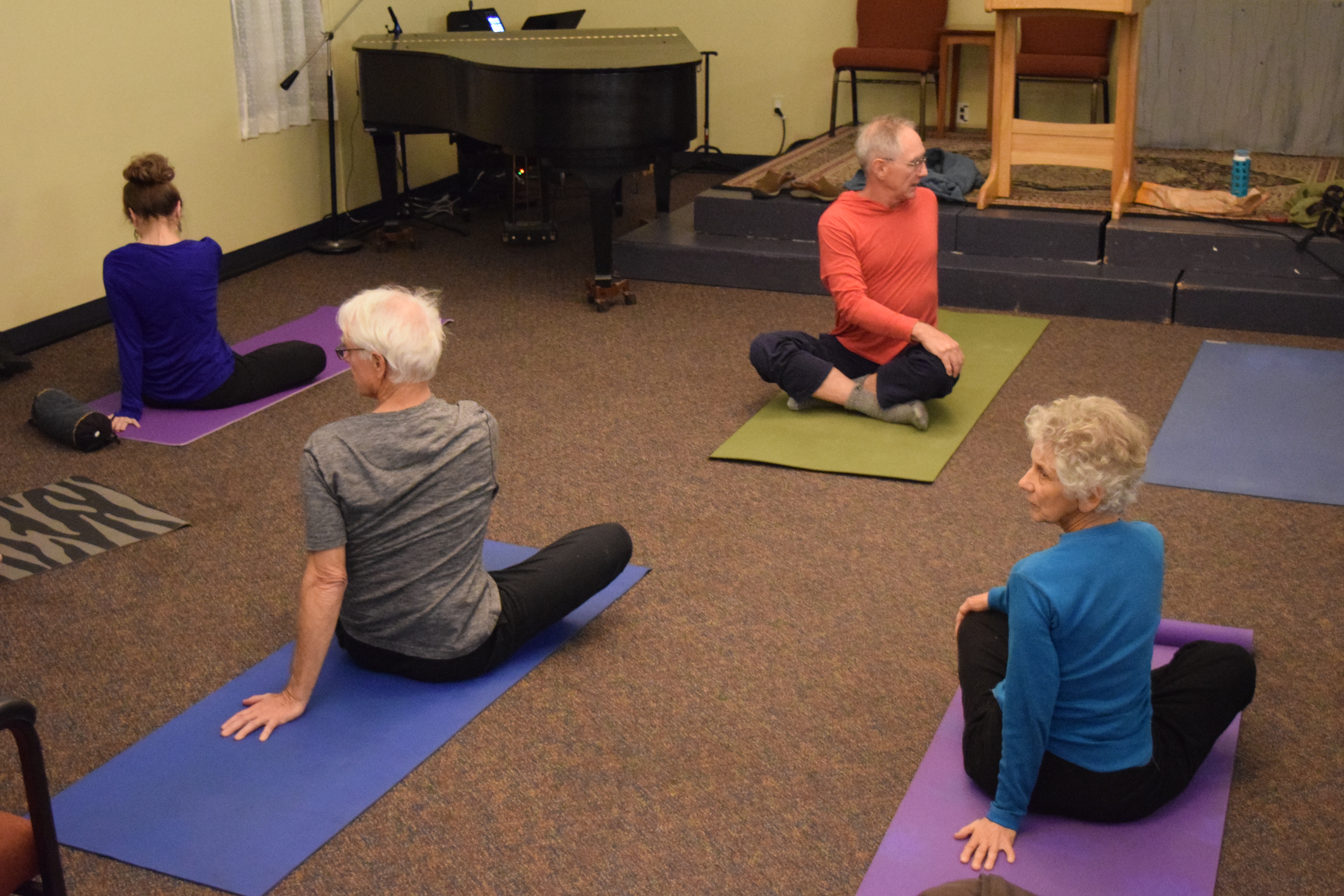 Chalice Yoga meets Tuesday evenings from 6:00pm – 7:00pm.  We teach a beginning level hatha yoga class intended for all ages and ability levels, and we welcome newcomers at any time.  You should dress in loose, comfortable clothing and use a yoga mat if you have one.  This is a fun, relaxed approach to yoga that will leave you feeling stretched, calm and happy.  We request a $5 donation to Chalice for each class if you are able, based on the Buddhist notion of "Dāna," or the cultivation of generosity as a virtue and a way of purifying karma.
Prayer Circle (monthly)
Rev. Sharon Wylie leads our monthly prayer circle on the third Wednesday of the month at 7pm. Please come prepared to request prayer and to offer prayer to others. All are welcome.