Eat and Chat
For each of these groups below, please call the office at 760-737-0393 or email the Office Administrator at chaliceuuc@gmail.com for the most accurate meeting times and days.
Circle Suppers (Monthly)
Single adults, couples, new and old Chalice folk, are welcome to join us. Circle Suppers are monthly dinners in a pot-luck format with usually eight people at a host's home. The number of dinners each month depends on how many people participate that month. There is no obligation to host a dinner. This is a great way to get to know each other better and further our sense of community. Newcomers are welcome.
Contact:
Emily Troxell at etroxell@sdsu.edu
Cracker Barrel (Weekly Men's Group)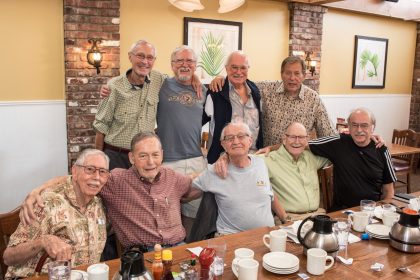 The group's function is to provide a forum each Wednesday morning at Marie Callender's restaurant in Escondido at 9:00 a.m. where about 10 men gather in a private room to exchange views on the state of our world, share humor, and to bond with other men of similar views and tastes.
Contact:
Marty Schwartz at elliot1marty@gmail.com or (760) 445-5441
Dining Out Circle (Monthly)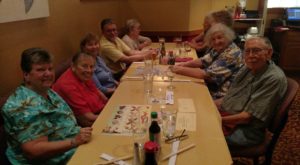 The Dining Out Circle has dinner together each month. We alternate between Escondido and Rancho Bernardo but sometimes venture a little further. We choose a variety of restaurants for cuisine as well as price. Attendance has been averaging about 10 people and includes singles as well as couples. We are an open, chatty group that welcomes newcomers any time.
Contact:
Cindy Carter at nanac1948@gmail.com or (951) 217-6310
Ladies Out to Lunch Group (Monthly)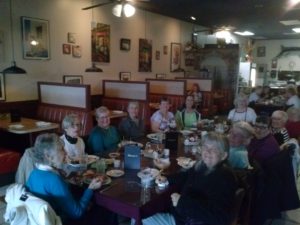 We are a group of Chalice members/friends who meet at 11:30 a.m. on the 3rd Friday of the month for lunch and conversation. We decide collectively on the next lunch spot, which has alternated between Escondido and Rancho Bernardo. The usual attendance of this new group has been about ten people. We welcome newcomers any time. Come and join us for conversation and getting acquainted– newcomers are most welcome.
Contact:
Carol Simpson at cc.simpson61@gmail.com or 858-485-5184