Justice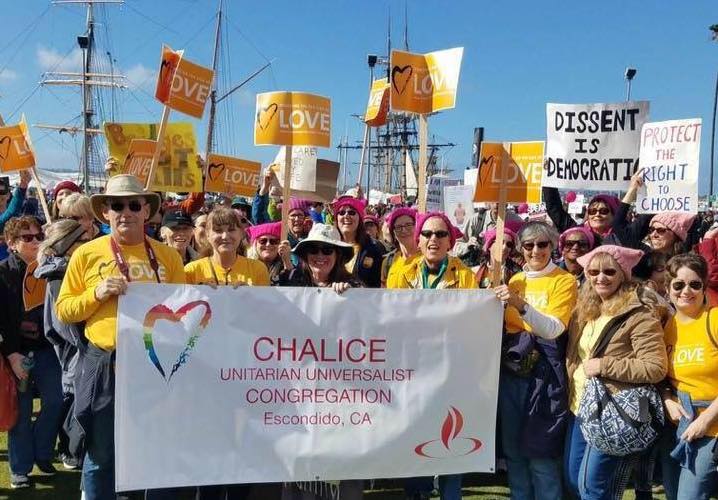 Unitarian Universalists have a legacy of "deeds not creeds." Our work for a better world calls us to unexpected places as we harness love's power to stop oppression. From grassroots community organizing to interfaith state, national, and corporate advocacy; in protest marches, prayer vigils, and press conferences; in homeless shelters and in prisons, Unitarian Universalists put our faith into action.
Chalice's Social Justice Team helps Chalice live our mission of "seeking justice in the wider world." Led by three co-chairs, the Team coordinates and supports groups of Chalice congregants who are leading social justice programs, projects, and one-time actions. You can get involved by filling out our online Pathways to Service survey.
Focus Issues:
Our Transformation Team has the following mission: "Through education, self-reflection, and social action, the Transformation Team will assist the congregation to identify and dismantle white supremacy culture and racism at Chalice and the world." You can read more about Transformation Team here.
Meet the Transformation Team:
Our Green Sanctuary Team's mission is "to provide a path for congregational study, reflection and action in response to environmental challenges."
Meet the Green Team:
On hold due to the pandemic: Chalice works with Interfaith Community Service Haven House shelter to provide meals for people experiencing homelessness. We prepare meals and bring them to ICS once a month.
Starting New Justice Projects:
Do you have an idea for a new social justice project at Chalice? Great! We want to facilitate your leading it. Read more here.
Service Projects:
Service projects are on hold due to the pandemic. We organize service projects in our community. This might be making sandwiches for people experiencing homelessness, restoring native habitat, or serving in a soup kitchen.
Charity Partners:
Chalice has three designated Charity Partners, which receive a large donation from us each year:
Interfaith Community Services (ICS) empowers people in need to stabilize and improve their lives. ICS is grateful for donations of toiletries and non-perishable food, which can be left in the hamper in Chalice's Common Room.
Center for Community Solutions (CCS) CCS operates a rape crisis center and emergency domestic violence shelters, and offers hospital and court accompaniment, as well as legal and counseling services for those affected by domestic violence and sexual assault. The CCS shelter needs diapers, baby food, children's clothing, and food, which can be left in the hamper in Chalice's Common Room.
Just In Time for Foster Youth (JIT) provides support for youth 18-26 who are aging out of the foster care system. They engage a caring community to help transitioning foster youth achieve self-sufficiency and well-being.
In addition, Chalice has identified additional local charities to receive our cash collection one Sunday of each month, including:
Interfaith Center for Worker Justice
Mental Health Systems North County Community Assessment Team
North County LGBTQ Resource Center
North County Immigration Task Force
SOLACE Interfaith Detention Visitation Project
Unitarian Universalist Refugee and Immigrant Services and Education (UURISE)