Music and Choir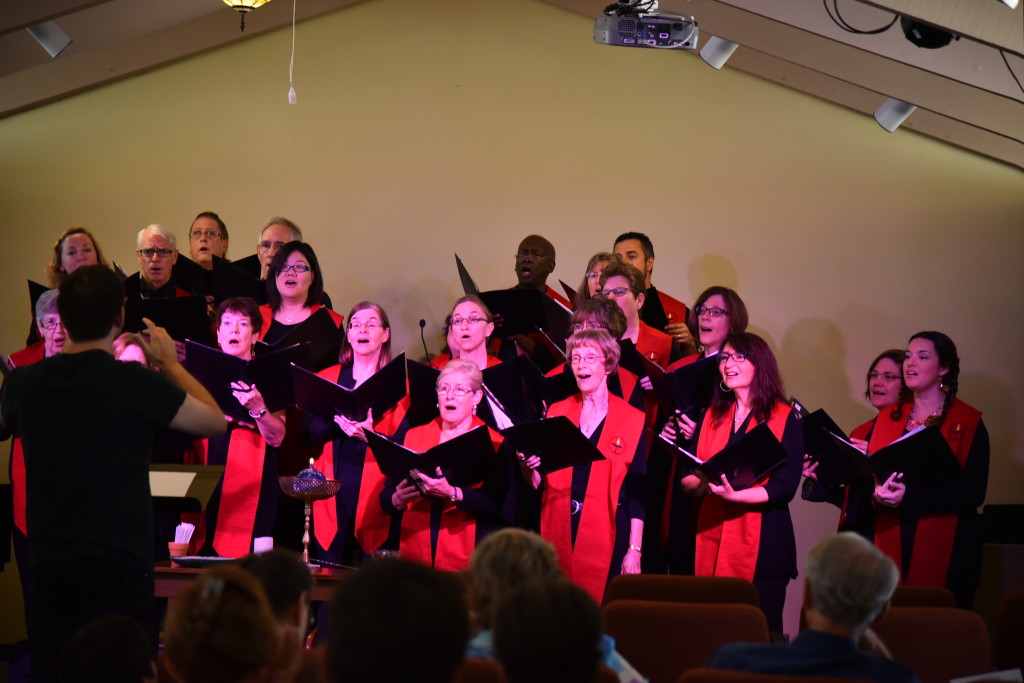 Music is an integral part of our Sunday Worship services. On a given Sunday morning you might hear classical, folk rock, Broadway, jazz, and everything in between! Every December and June, the various musicians and ensembles of Chalice come together to present a full service of music, based around a theme. We all look forward to our annual Music Services, where you might also hear a hand chime ensemble, a children's choir, and much more!
Musical Groups
Chancel Choir
The Chancel Choir is our adult choir that is open to anyone who enjoys singing. The group rehearses on Thursday nights from 7:30 – 9:00 p.m. While there is construction at Chalice, we will meet at Temple Adat Shalom in Poway (15905 Pomerado Rd). The Chancel Choir sings a wide variety of musical styles at worship services two Sundays per month. Read more about the Chancel Choir…
Contact: Stuart Holmes   stumusic@sbcglobal.net
Handchime Ensemble
The Handchime Ensemble is a multi-generational ensemble open to ages 10 and up.  The group rehearses on Thursday nights from 6:30 to 7:15 pm. While there is construction at Chalice, we will meet at Temple Adat Shalom in Poway (15905 Pomerado Rd).  Handchimes add a uniquely beautiful sound to the worship services.  The Handchime Ensemble incorporates handchimes into many aspects of the worship services, including accompanying hymns, enhancing ritual, and providing special music.   Although not required, some experience reading music is very helpful.
Contact: David Peale    d.peale.2@mindspring.com
Spirit of Chalice
Is on hiatus at this time.
Music Director: Tim McKnight

Tim McKnight hails from the rural Midwest, but relocated to San Diego in July 2004. One month later, Chalice UU Congregation hired Tim as Music Director, a position he has held ever since. Tim coordinates music for worship, directs the Chancel Choir, the Handchime Ensemble, and orchestrates special music services and other musical events. Tim is currently on a leave of absence. He will be returning in June 2019.
Read more about Tim and the music staff here.
Special Events
Rites of Passage

Chalice music groups have been asked to perform at weddings, memorial services, ordinations, and even CD release parties!

Auction Concerts

Concerts offered at our annual auction are a great way to give back to Chalice while having fun. Some recent events include: Chalice Home Companion; Folk songs with friends of the Andersons; Speed of Sound Backyard Concert; Chili, Brews and Blues; Sounds of the Season; Hymn Sing; Madrigal Dinner; and Keyboard Kaleidoscope.

Special Music Events

Creative members of our Music department have offered events such as a Hamiltunes Sing-a-long, Movie Sing-a-long, and an occasional spontaneous jam session. Chalice has given well loved cabaret performances for 9 years.