Worship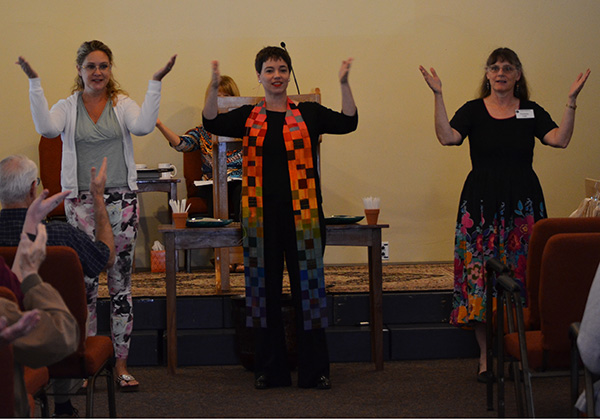 We hold worship every Sunday at 10:00 am; all are welcome.
Our minister, Rev. Sharon Wylie, leads worship most Sundays.
Other services are led either by members of the congregation or by a visiting minister or guest.
We gather together in spiritual community because we need constant reminders of what matters most in life. In a world of heartbreak and dehumanization, our congregations and communities call us to our better selves. We learn to live with more wisdom, more connection, and more compassion.
Our Worship Services are dynamic, energetic, thought-provoking, music-filled. They are weekly reflections that weave together our own thoughts and experiences with music, beauty, poetry, and words that both comfort and challenge. They draw on the six Sources of Unitarian Universalism, as well as the joys and struggles of our congregational life.
At Chalice you will find variety, ranging from the traditional sermon and hymn service to participatory services, which can include earth-centered holidays, personal witnesses, or special music services.
Rev. Sharon Wylie is available to lead rites of passage for members of the congregation. We happily celebrate same-sex weddings.
Parents who are interested in ritually welcoming their children to our community may contact Rev. Sharon about a child dedication. This ritual, which takes place during a Sunday Worship Service, is not a "baptism," but is a blessing of the child and a time for the community to commit to supporting the child and family.