Do and Discuss
For each of these groups below, please call or email the office at 760-737-0393 or Office@ChaliceUUCongregation.org for the most accurate meeting times and days.
Activist Letter Writers Group
This politically astute group meets twice a month, on the 1st and 3rd Wednesdays, from 11:30 am to 1:30 pm. This group will meet on-line until further notice. We share addresses, issues, and attitude!
Contact:
Kaye Campbell at mmmgood30@gmail.com
Fiber Arts and Crafts Group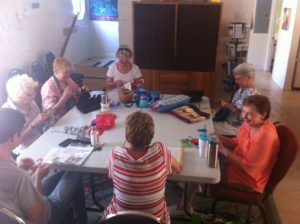 The Chalice Fiber Arts and Crafts Group has suspended meetings until further notice. Normally, there are monthly meetings, on the 3rd Wednesday, from 1:30pm to 3:30pm. We meet in the Blue Room of the Hub. We meet for friendship and mutual enjoyment of our work, primarily needlecrafts such as knitting, crocheting, sewing, embroidery, beading, or appliqué, but anyone with a craft that doesn't take a lot of space or cleanup is welcome.
Contact:
Bonnie Packert at bp888@willowgrace.net
Interfaith Community Services Dinner (Monthly)

Each month, volunteers from Chalice prepare and serve a meal to the people who are staying at Haven House, a shelter in Escondido located at 550 W. Washington Ave. There are different coordinators for each month, and Julia & Marshall Fogel keep the mailing lists and facilitate our participation in this community service project. The group brings a joyful presence and has fun while serving a much-needed and appreciated meal.
Contact:
Marshall Fogel at mfogel1950@att.net
Green Sanctuary Team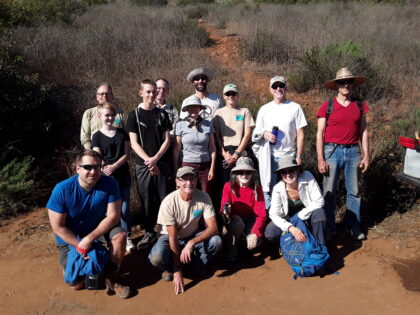 Want a cleaner, safer, happier life? Chalice Green works to achieve Unitarian Universalist Association (UUA) Green Sanctuary accreditation. What does this have to do with Chalice and with my quality of life? Pursuing Green Sanctuary
accreditation walks us down a path, both as individuals and as a congregation, away from destruction and toward a renewed web of life. The UUA Green Sanctuary program provides structure, leadership and support. The Green Sanctuary accreditation goal is in keeping with our Seventh Principle, moving us toward a viable and just world for all. Chalice Green meets the last Wednesday of the month at 6 p.m. Contact Victoria Tenbrink, ChaliceUUCGreen@gmail.com.
Women's Book Club
The Chalice Women's Book Group meets the 3rd Tuesday of every month at 7:15pm. It is hosted in the Blue Room. We select books as a group and publish our annual reading list for all interested parties. Each month one member volunteers to lead our discussion but since we have many readers no one is required to assume this task. We always enjoy discussing the book and other topics, ideas, and experiences at our meetings. We invite all women readers to join us for a fun and stimulating evening.
Contact:
Mary Best at marybest50@gmail.com
Upcoming schedule:
February 18, 2020: The Witch Elm by Tana French
March 17, 2020: rescheduled
April 21, 2020: The Library Book by Susan Orlean
May 19, 2020: Olive, Again by Elizabeth Strout
June 16, 2020: Crossing Paths by Susan Lewallen
July 21, 2020: The Atomic City Girls by Janet Beard
August 18, 2020: Unsheltered by Barbara Kingsolver
September 15, 2020: The Women of Copper Country by Mary Doria Russell
October 20, 2020: Madame Fourcade's Secret War by Lynne Olson
November 17, 2020: Rules of Civility by Armor Towles
December 15, 2020: Where the Crawdads Sing by Delia Owens
January 19, 2021: Choose books for 2021
February 16, 2021: The Dutch House by Ann Patchett
March 16, 2021: Madame Fourcade's Secret War by Lynn Olson
April 20, 2021: The Yellow House, a memoir by Sarah M. Broom
Past Book Club Selections
Poetry Group
The Poetry Group meets the 3rd2nd Monday of each month from 1:00 to 3:00 pm in the Yellow Room. This group will not be meeting until further notice. Participants bring poems to read aloud, with all welcome to join in discussion of the works and the thoughts they inspire. Share beloved classics or new discoveries or original work of your own or loved ones.
Contact:
Bonnie Packert at bp888@willowgrace.net