Listening to Black Preachers Series (2021-2022)
Spirit Study is a 10-month invitation to learning, practice, and reflection. Our 2021-22 study topic was Listening to Black Preachers, featuring Black UU preachers from all over the country. Our preachers were invited to speak on any topic of their choosing. Our study year ran from September 2021 through June 2022.
Gregory C. Carrow-Boyd
"We Are What We Witness"
September 26, 2021
Unitarian Universalists witness for justice across the generations through our social justice statements. Both where we have been loud and where we have been silent tell us which of our actions are on the side of justice. Gather for a service of clarifying who we must be in a world hostile to our shared values.
Gregory C. Carrow-Boyd, MEd, CRE–ML is a Master Credentialed Religious Educator and Aspirant for Unitarian Universalist who lives and serves in Los Angeles, CA.
Rev. Margalie Belizaire
"The Good Samaritan"
October 24, 2021
Ever wonder if there might be more to the well known and beloved biblical parable "The Good Samaritan?" Well, I've come to view it in a whole new way lately. Come explore with me and see if this exploration impacts your understanding of the parable in any way.
Rev Margalie Belizaire is the Settled Minister of First Unitarian Church of Orlando, Florida.

Rev. Addae Kraba
"The Grace in Gratitude"
November 14, 2021
In November most people look forward to gathering around the family table in celebration of the American Holiday of Thanksgiving. How accurate are the stories that we learned as children about the first harvest feast held in 1621 from the reality of that day? How can we honor both family traditions and memories of native people?
Rev. Addae Kraba is the Minister to the Unitarian Universalists of New Braunfels in Texas.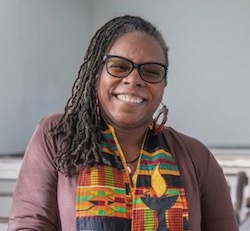 Rev. Kimberly Quinn Johnson
"Diversity and Difference"
December 12, 2021
How do we respect our independence and individuality while also honoring the ways that we are all interdependent on each other?
Rev. Kimberly Johnson serves as minister of the UU Congregation of the South Fork on the east end of Long Island in Bridgehampton, New York.
Rev. Walter LeFlore
"The First Shall Be Last and the Last First"
January 23, 2022
Our first UU principle focuses on the individual's worth and dignity. The seventh speaks to the interdependent web of all existence of which we are a part. What might be the impact on our collective orientation to life if the last was first and the first was last?
Rev. Walter LeFlore is the Developmental Minister in Roanoke VA. Pior to serving as Developmental Minister at the UU Church of Roanoke VA, he served the UU Fellowship of Poughkeepsie NY for 8 yrs. He has served on numerous Boards and committees, including the Board of Trustees of the UU Ministers Association. Ordained in 2011, he interned at All Souls Unitarian in Washington, DC. Prior to ministry, he was Principal of an organization development consultancy.
Rev. Dr. Natalie Fenimore
"What to BIPOC is Unitarian Universalism?"
February 13, 2022
In 1852, the great orator Frederick Douglass was invited to give a speech in his hometown commemorating the 4th of July. In his speech, Douglass spoke of the aspirations for freedom central to the founding of the nation – and then he asked, "What to the Slave is the Fourth of July?" Few can match Douglass as an orator, and I am not one of them – but I would like to consider Douglass' questions: how can the nation and the religious community be true to its promise of freedom and fulfillment for those long excluded? And how might Unitarian Universalism become more of a faith home for Black, Indigenous and People of Color Unitarian Universalists? What does Unitarian Universalism have to offer to BIPOC communities?
Rev. Dr. Natalie Fenimore is Lead Minister and Minister of Lifespan Religious Education at the Unitarian Universalist Congregation at Shelter Rock.
Rev. John T. Crestwell, Jr.
"Caste"
March 20, 2022
Isabel Wilkerson writes: "Caste is the granting or withholding of respect, status, honor, attention, privileges, resources, the benefit of the doubt, and human kindness to someone on the basis of their perceived rank or standing in the hierarchy." Today Rev. John will discuss the realities of caste and how we can dismantle it in ourselves and society at large.
Rev. John T. Crestwell, Jr. is a called minister and Executive at the Unitarian Universalist Church of Annapolis, where he has served since 2009.
Rev. Jacqueline Brett
"Living Into Possibility: A Womanist Faith"
April 10, 2022
Writer Alice Walker introduced the term "womanist" to our lexicon nearly 40 years ago, describing the experiences of Black women at the intersection of gender, race, class, culture, and sexuality. Today's service explores womanist theology and faith that has infused individual lives, communities, and even the life of our nation.
Rev. Jacqueline Brett is the newly called senior minister of the Eno River Unitarian Universalist Fellowship in Durham, North Carolina.
Rev. Adam Lawrence Dyer
"Reckoning"
May 15, 2022
Who are reckonings on race and histories of oppression really aimed at and what do they accomplish?
Rev. Dyer is the Lead Minister at First Parish in Cambridge Unitarian Universalist, Cambridge, MA and a Harvard University Chaplain. He is the author of Love Beyond God, a collection of meditations focused on Black identity and liberal religion. He maintains a regular blog, Spirituwellness.org, which explores race, bodies, faith and politics.

Rev. Viola Abbitt
"Looking for Shark Teeth"
June 5, 2022
We don't have to look hard to find joyous, enlightening and affirming things in our everyday lives. Who knows what can be revealed to us if we take the time to pay attention to the moment we are in and then . . . pause.  Come and hear a summer story about the wonder in the pause.
Rev. Abbitt is the settled minister of Coastal Virginia Unitarian Universalists in Virginia Beach, Virginia.