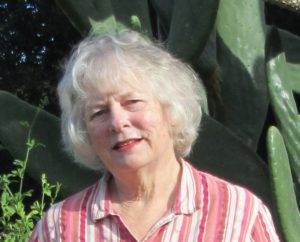 Coordinating Team would like to thank and recognize Carol Simpson for her work as the Garden Coordinator and Kitchen Coordinator at Chalice.
WHAT MINISTRY / GROUP / team DO YOU VOLUNTEER WITH?
Currently: I often joke that of Building & Grounds Committee, Larry is Buildings chair and I am Grounds chair, but with a gardening service in recent years, my part has been reduced to coordinate care of the rose garden (and troubleshooting with him about garden care). I coordinate with MANY others in the Chalice kitchen, having done inventory twice (ugh!), and serve on the Coffee Team and Sunday Refreshment Team. I help coordinate meals when Pastoral Care Team needs assistance.
Previously: Chalice newsletter production at the Pomerado church site
WHEN DID YOU START COMING TO Chalice?
I joined as a charter member when Chalice and UUINCF combined to form Chalice UU Congregation. My family and I were charter members of UUINCF.
 WHAT MADE YOU DECIDE TO VOLUNTEER?
I had stopped my consulting work and then had time to help the gardening group under Evelyn Englander's leadership, soon after we had moved in to our new Chalice site in Escondido.
 WHAT IS YOUR FAVORITE PART ABOUT VOLUNTEERING?
I like getting to know other Chalice members and friends better, outside of the Sunday morning activities.
 DO YOU VOLUNTEER WITH OTHER ORGANIZATIONS, OUTSIDE OF CHALICE?
I am a docent at Blue Sky Ecological Reserve and treasurer of Friends of Blue Sky Canyon
WHAT PURPOSE/VALUE/FEELING DO YOU FEEL/GAIN/HAVE WHEN YOU ARE VOLUNTEERING?
I enjoy seeing the Chalice grounds well maintained, and seeing the enjoyment of others using the outdoors for activities. The kitchen coordination is really a loosely-held position, as so many activities center around food. I truly appreciate that we are all volunteers for a common purpose. I especially appreciate the several label makers in recent years, who help define the "what & where" for everything! 
ABOUT YOU
WHERE WERE YOU BORN/RAISED?
I was born in St. Louis, but lived in Edwardsville, IL until I was seven. We moved back to St. Louis for six years, then moved to Los Angeles when I was in junior high school. Went through high school and college in L.A. Larry and I met at UCLA.
FAVORITE CHILDHOOD MEMORY?
I remember enjoying summers (though hot & humid) in our St. Louis suburb, playing monopoly with friends in the basement to keep cool. And walking and/or sliding to school in the snow. I still communicate with one girlfriend (via Christmas letters and Facebook), and that would be about sixty years of letter writing!
 WHAT BROUGHT YOU TO SAN DIEGO?
Larry and I had been considering a move to San Diego, as my brother and family were here since 1972, and we wanted to escape from Los Angeles. When he received a desirable offer for employment in 1979, we decided the time was right, as our oldest child was just starting kindergarten.
 WHAT IS YOUR JOB/PROFESSION OUTSIDE OF CHALICE?
I am a registered dietitian nutritionist (new title adopted by my professional group!). I worked in hospitals in Los Angeles, and most recently in skilled nursing facilities here in San Diego. I was consulting in nursing homes part time until about ten years ago, and now am retired.
MARRIED/FAMILY/CHILDREN?
Married to Larry Simpson. Our daughter Joy is married to Matt Micone and they live in Mira Mesa. Son Jeff and Megan recently married and now live in North Park.
WHAT'S YOUR FAVORITE MOVIE?
The recent "Ghostbusters" remake with Melissa McCarthy was a blast! The original was a favorite of mine years ago.
 WHAT IS YOUR FAVORITE PLACE TO GET BURRITOS?
I rely on Larry's judgment for the current best burrito shop, which must be local and authentic. Some good ones have disappeared over the years.
WHO IS YOUR FAVORITE SPORTS TEAM?
Of all sports, baseball is probably my favorite, and for sentimental reasons I would pick St. Louis Cardinals. I remember attending games as a child in St. Louis.
COFFEE OR TEA?
Coffee, black, fresh ground and not too strong.