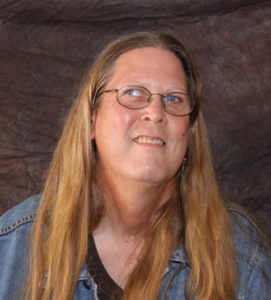 Friends and family are invited to join us in the Celebration of the life of Morgana Mlodoch on Saturday, November 19 at 2 pm in the chapel at Chalice Unitarian Universalist Congregation, 2324 Miller Avenue, Escondido, CA 92029.
Morgana was born Michael Mlodoch on July 3, 1952. She was the oldest of 10 siblings, and (in an article in the January Chalice Newsletter) described her parents as artists with eclectic taste in music. She graduated from Maine West High School in Des Plaines, IL in 1970 and from Western Illinois University – where she worked her way through school – in 1976. She graduated with high honors and a B.S. in Psychology. Her journey on this planet came to an end on September 26, 2016, when she died of natural causes.
Morgana described herself as an activist by conviction. She said her major cause was to advocate for LGBT youth although she supported other causes "under the heading of making the world a more just and compassionate place." Her friends describe her as a compassionate and thoughtful person, soft spoken, with a good sense of humor. Recently Morgana had retired, then gone back to working part time. She loved music and began playing guitar a few years ago. She was writing songs, and had begun to play for a grateful audience at Chalice. In the words of her sister-in-law, Lisa Mlodoch "Our hearts are broken".