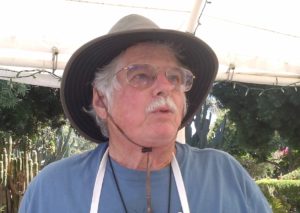 Coordinating Team would like to thank and recognize Larry Simpson for his work as the lead for the Building and Grounds Committee. Larry has overseen improvements to the buildings and grounds of the Chalice campus soon after we moved to our current location. Just a few of his efforts have included ensuring that the canopies over the patio are in good repair, that the irrigation systems are working properly, that we have good, energy efficient lighting in all the buildings, that the plumbing is repaired when needed and so many other efforts too numerous to mention.
WHAT MINISTRY / GROUP / TEAM DO YOU VOLUNTEER WITH?
Currently: I have worked with the Building and Grounds Committee since we occupied this building in 2004.
Previously: I sang with the choir for three years, as a tenor.
WHEN DID YOU START COMING TO CHALICE?
I joined as a charter member when the original Chalice and UUINCF combined to form Chalice UU Congregation in about 2002. I came in thru UUINCF, which I joined as a charter member on my first visit, which happened to be their charter Sunday, in about 1985.
WHAT MADE YOU DECIDE TO VOLUNTEER?
This building was a family home we bought and converted to our church. When we moved here in the fall of 2004, I joined the committee to help with the new maintenance and improvement projects we needed. My years of experience as a home and rental owner made this committee a logical choice.
WHAT IS YOUR FAVORITE PART ABOUT VOLUNTEERING?
I most enjoy seeing people enjoy using an improvement, or appreciating when a repair makes life better. I most enjoy the shade provided by the canopies we installed on our patio.
DO YOU VOLUNTEER WITH OTHER ORGANIZATIONS, OUTSIDE OF CHALICE?
Occasionally I help on projects at Poway Blue Sky Ecological Reserve.
WHAT PURPOSE/VALUE/FEELING DO YOU FEEL/GAIN/HAVE WHEN YOU ARE VOLUNTEERING?
I enjoy seeing my work helping the use and enjoyment of the church.
ABOUT YOU
WHERE WERE YOU BORN/RAISED?
I was born in Burbank, California. I lived in Santa Monica for 4 years, then moved to Highland Park, L.A. The next year, we moved to Clovis, New Mexico, then Big Spring, Texas. We had my only two snow winters there, and lots of freedom to roam the countryside. My dad owned a vacuum cleaner sales company there, but it did poorly. After 15 months, we returned to Highland Park until I finished Junior High School. Then we moved to La Mirada, CA, where I finished high school in Norwalk.
FAVORITE CHILDHOOD MEMORY?
I enjoyed the many fishing and camping trips with my family, in the San Gabriel Mountains, and in the middle and High Sierra. A favorite camp was at Redwood Meadow, in the Kern River back country north of Kernville. The access was difficult via a long dirt road past the company logging town of Johnsondale. There was no good fishing there, but it was a very isolated and wonderful car camp. The logging has stopped, and Johnsondale has closed, and the dirt roads are now paved roads all the way to the San Joaquin Valley.
WHAT BROUGHT YOU TO SAN DIEGO?
I had grown to dislike L.A. with its crowds and seeming lack of purpose. A CATV hardware company offered me a research engineering position in RB, and moved me here. I insisted on a home with good schools with at least a half acre, and got it in Poway. The land can be a mixed blessing, but I hope to stay here until the end.
WHAT IS YOUR JOB/PROFESSION OUTSIDE OF CHALICE?
I am an electronic engineer, specializing in the RF and microwave communications world. I slowly retired between 1996 and 2002.
MARRIED/FAMILY/CHILDREN?
My wife of 51 years, Carol Simpson, is also a Chalice Member. My daughter Joy Micone is married and living in Mira Mesa. Our son Jeff became a software engineer at BAE Systems in RB. He married Megan in June, and they bought a town home in North Park.
DO YOU HAVE ANY SPECIAL THOUGHTS ABOUT CHALICE?
Our music is spiritual to me. I love the way the music conveys and addresses our human feelings. I think of songs with so much meaning, such as our Blue Boat Home (the Earth) and Spirit of Light, which we sing with such fervor, often from memory..
WHAT IS YOUR FAVORITE PLACE TO GET BURRITOS?
I like them best at almost any Mexican 'Taco Stand.' When I see the large sign with block lettering listing a complete Mexican menu, I know I have authentic food.
WHO IS YOUR FAVORITE SPORTS TEAM, OR WHAT IS YOUR FAVORITE SPORT?
I prefer individual participation sports, such as hiking, backpacking, and scuba diving, tho I haven't done the latter two lately.
COFFEE OR TEA?
Coffee, always fresh ground medium roast, and BLACK.