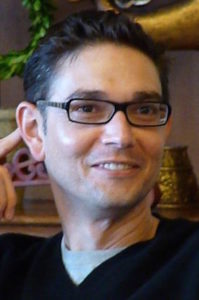 MAY VOLUNTEER SPOTLIGHT ON PETER ARMSTRONG Coordinating Team would like to thank and recognize Peter Armstrong for his work overseeing Chalice's Sunday morning coffee—including grinding the grounds fresh every Saturday—and for volunteering with our children's religious education program.
WHAT MINISTRY / GROUP / TEAM DO YOU VOLUNTEER WITH? Currently: Religious Education/Coffee/Minister Support Previously: N/A
WHEN DID YOU START COMING TO CHALICE? I started attending Chalice in August 2012, when Sharon was selected as the minister.
WHAT MADE YOU DECIDE TO VOLUNTEER? I really, really like coffee. I thought I could help bring great coffee to Chalice on Sunday mornings.
WHAT IS YOUR FAVORITE PART ABOUT VOLUNTEERING? I have enjoyed getting to know some of our younger congregants through religious education. Our Chalice children are thoughtful, passionate people. Interacting with them always brightens my Sunday mornings.
DO YOU VOLUNTEER WITH OTHER ORGANIZATIONS, OUTSIDE OF CHALICE? I have participated in some of our Chalice service projects: Habitat for Humanity, San Dieguito River Park Foundation, etc. From time-to-time I volunteer for organizations that help the homeless or advocate for affordable housing.
WHAT PURPOSE/VALUE/FEELING DO YOU FEEL/GAIN/HAVE WHEN YOU ARE VOLUNTEERING? I enjoy helping out and getting to know the Chalice community better. It makes me happy to see Chalice thriving.
ABOUT YOU – WHERE WERE YOU BORN/RAISED? I was born and raised in Albuquerque, New Mexico. I moved away to attend college in Southern California.
FAVORITE CHILDHOOD MEMORY? I had a busy household growing up. I loved getting outside to shoot hoops, ride my bike, and play with the dog. I also enjoyed listening to baseball games on my transistor radio.
WHAT BROUGHT YOU TO SAN DIEGO? Sharon brought me to San Diego, twice. We decided to make our home in San Diego after I finished graduate school in 1996. In 2012 we were ecstatic to return to San Diego when Sharon was called to Chalice.
WHAT IS YOUR JOB/PROFESSION OUTSIDE OF CHALICE? I work for a nonprofit that develops affordable housing communities. I help arrange the financing we need to build the projects and provide subsidized rents to our residents.
MARRIED/FAMILY/CHILDREN? I am married to Sharon Wylie. We are the proud guardians of 4 cats.
WHAT'S YOUR FAVORITE MOVIE? Shawshank Redemption, Hoosiers
WHAT IS YOUR FAVORITE PLACE TO GET BURRITOS? I defer to Sharon on the question of burritos. I love eating burritos with New Mexican green and red chiles.
WHO IS YOUR FAVORITE SPORTS TEAM? LA Lakers. I am also a huge tennis fan.
COFFEE OR TEA? Coffee