APRIL VOLUNTEER SPOTLIGHT ON PAULA GONZALES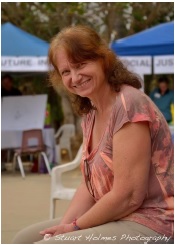 Coordinating Team would like to thank and recognize Paula Gonzales for her work as Chalice's newsletter editor and as a longtime volunteer with our children's religious education program.
WHAT MINISTRY / GROUP / TEAM DO YOU VOLUNTEER WITH?
Currently: Newsletter Editor, Children's RE
Previously: Trail Head Clean Up, Cabaret, Children's RE, Teen Group, helping at parties.
Future: I hope to work with Cabaret, Teen Group, Trail Head again. I would also like to be involved in Leadership, Social Justice and Caring Committee. There are more interesting groups than time to participate.
WHEN DID YOU START COMING TO CHALICE?
1999 – It was Chalice Church at that time.
WHAT MADE YOU DECIDE TO VOLUNTEER?
It looked like fun.
WHAT IS YOUR FAVORITE PART ABOUT VOLUNTEERING?
I get to know so many wonderful people. I meet people on Sundays, but there is nothing like working with someone for a common goal to actually get to know a person.
DO YOU VOLUNTEER WITH OTHER ORGANIZATIONS, OUTSIDE OF CHALICE?
I used to volunteer with school organizations, the PTA, Robotics Team. Now my children are grown so I am looking for volunteer opportunities that nurture my spirit. Chalice has a wonderful selection.
WHAT PURPOSE/VALUE/FEELING DO YOU FEEL/GAIN/HAVE WHEN YOU ARE VOLUNTEERING?
It is a family tradition to volunteer. My mother was very active. When I volunteer, I feel good about contributing to my community. There is a lot of need, and if I can fill that, I want to. I have also received a lot of help from others who were volunteering their time and energy. This is my way of honoring their gifts to me.
ABOUT YOU
WHERE WERE YOU BORN/RAISED?
Born in New York. I grew up in California, mostly San Francisco and Los Angeles.
WHAT BROUGHT YOU TO SAN DIEGO?
I came to San Diego to attend SDSU.
WHAT IS YOUR JOB/PROFESSION OUTSIDE OF CHALICE?
I am an administrative assistant. I currently work for a temporary agency.
MARRIED/FAMILY/CHILDREN?
Yes. All that, and grandkids.
WHAT'S YOUR FAVORITE MOVIE?
I would recommend "The Martian" – but honestly, the book was better. I also loved the Harry Potter series, but (you know) the books were BETTER.
WHAT IS YOUR FAVORITE PLACE TO GET BURRITOS?
My sister's house. She makes great burritos, and then I am eating with my sister!