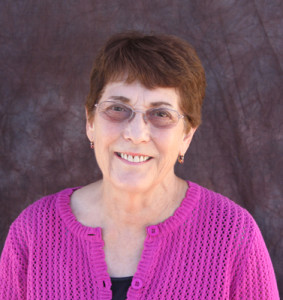 Coordinating Team would like to thank and recognize Rita Hill for her leadership as a co-leader of Pathways Team and for chairing the Auction Task Force.
WHAT MINISTRY / GROUP / TEAM DO YOU VOLUNTEER WITH?
Currently: Pathways, Legacy, Auction Task Force, Stewardship, and Greeter. Previously: Finance Committee, Budget Committee
WHEN DID YOU START COMING TO CHALICE?
My husband and I first came to Chalice and became members in 2007.
WHAT MADE YOU DECIDE TO VOLUNTEER?
Volunteering is a way to become an active participant in the community or communities you join.
WHAT IS YOUR FAVORITE PART ABOUT VOLUNTEERING?
I enjoy working and planning along with others to complete goals.
DO YOU VOLUNTEER WITH OTHER ORGANIZATIONS, OUTSIDE OF CHALICE?
At present I tutor in the Every One a Reader Program at Felicita Elementary School in Escondido. I serve on the Homeowners Committee where I live.
WHAT PURPOSE/VALUE/FEELING DO YOU FEEL/ GAIN/HAVE WHEN YOU ARE VOLUNTEERING?
In the past I have volunteered in activities that were related to a particular period of my life. Examples would be that when my sons were young I helped with a number of children's activities and while working I was a negotiator for the CTA. Now that I am retired, volunteering helps me to feel useful and provides a means for me to give back.
ABOUT YOU WHERE WERE YOU BORN/RAISED?
I was born in Los Angeles but was raised in Pasadena and Coronado.
FAVORITE CHILDHOOD MEMORY?
Our home in Pasadena was at the end of the Rose Parade route. The floats were housed for three days after the parade across the street from our house. It was a carnival atmosphere complete with vendors. My Mother would keep a couple of huge pots of chili on the stove and we had nonstop company.
WHAT BROUGHT YOU TO SAN DIEGO?
My parents visited in this area often then moved here permanently in 1950.
WHAT IS YOUR JOB/PROFESSION OUTSIDE OF CHALICE?
I am a retired middle school teacher.
MARRIED/FAMILY/CHILDREN?
I was widowed in 2009. My family consists of two sons, their wives and my three adult grandchildren.
WHAT'S YOUR FAVORITE MOVIE?
When Gone With The Wind was brought back for the first time my friends' mothers would not let them see it as they said it was not appropriate for children. I talked about that so much that my mother took me to see the movie just to shut me up. So needless to say that movie has always been special to me.
WHAT IS YOUR FAVORITE PLACE TO GET BURRITOS?
Cenote Grill in Escondido
WHO IS YOUR FAVORITE SPORTS TEAM?
I am not a big sports fan but do find the records of local teams interesting to follow.
COFFEE OR TEA?
Tea