DECEMBER VOLUNTEER SPOTLIGHT ON: Lena Wellman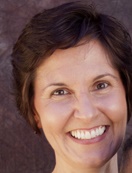 Coordinating Team would like to thank and recognize Lena Wellman for her leadership in organizing the November 21st Arts & Crafts Fair.
WHAT MINISTRY/GROUP/TEAM DO YOU VOLUNTEER WITH?
Currently: I just finished organizing the arts & crafts fair on Nov 21 st with the help from a planning committee and many others. Previously: I've worked with RE – all ages, I've done Cabaret (does that count?), trail maintenance with Chuck, and I used to direct Spirit of Chalice, when the kids put on the amazing Music Machine show!
WHEN DID YOU START COMING TO CHALICE?
The beginning of 2008
WHAT MADE YOU DECIDE TO VOLUNTEER?
Guilt. Just kidding. I wanted to see the craft fair up and running at Chalice again, so I figured one way to make that happen was to organize it. (Plus, I really needed to clear out some of my pottery, and I figured a sale would be a good way to accomplish that. Many thanks to those of you who helped me by purchasing my pieces!)
WHAT IS YOUR FAVORITE PART ABOUT VOLUNTEERING?
Getting to know folks better whom I don't necessarily have the opportunity to interact with otherwise.
DO YOU VOLUNTEER WITH OTHER ORGANIZATIONS, OUTSIDE OF CHALICE?
Yes
WHAT PURPOSE/VALUE/FEELING DO YOU FEEL/GAIN/HAVE WHEN YOU ARE VOLUNTEERING?
It depends on the volunteer work! It can be rewarding, exhausting, freeing, centering, healing, disgusting, difficult, labor intensive, grounding, but almost always satisfying.
ABOUT YOU WHERE WERE YOU BORN/RAISED?
Born in Houston, TX but at age 5 moved to Meade, KS, and lived there until College.
FAVORITE CHILDHOOD MEMORY?
Spending time with my siblings building lath houses in our back yard, harmonizing, and playing in our tree house.
WHAT BROUGHT YOU TO SAN DIEGO?
Our Dodge Dakota pick-up truck. 🙂 but we came for the weather (from chilly VA).
WHAT IS YOUR JOB/PROFESSION OUTSIDE OF CHALICE?
I've always worked with children/youth. This past year I've mostly just focused on my own child, but I've also enjoyed being a student and helping others whenever I can.
MARRIED/FAMILY/CHILDREN?
I have a partner, Curtis and a son, Antonio.
WHAT'S YOUR FAVORITE MOVIE?
Depends on my mood, but I rarely watch movies. A couple that come to mind are Liar, Liar, and Prime.
WHAT IS YOUR FAVORITE PLACE TO GET BURRITOS?
I don't eat burritos very often since I'm gluten free. I can tell you where to get some of the best chocolate though.
WHO IS YOUR FAVORITE SPORTS TEAM?
My son's lacrosse team and my volleyball team.
COFFEE OR TEA?
Neither. I prefer water. I know, not terribly exciting but it is refreshing!