We live in a time of drought. This drought is literal: our reservoirs are drying up and our landscape is drying out. The drought is also metaphorical: we live in a time of spiritual and moraldrought. Of oppression, of disconnection, of alienation. This "drought" is alive and well in North County, particularly in Escondido. This is what we felt beating at us last July, when the city council meeting on opening a shelter for migrant families became a crucible of fear and division.
My hope is that Chalice can be a source of "water" in our dry and thirsty city. We sing every week about drinking from the well: a well of justice, joy, and a love that we're all a part of. I see our justice work as a broadening of our well: understanding that our congregation is a part of our community, and our community is part of our congregation. It's a way we "open the doors to the world outside."
One way we can do this is by building relationships with the North County Immigration Task Force. I've been attending these meetings this year, and I invite you to join me if you are available on Tuesday evenings. The coalition is a mix of grassroots activists and organizational representatives. At my first meeting, I was the only one in a group of twenty who was both white/Anglo and representing a predominately white/Anglo organization. In our highly polarized and anti- immigrant community, bringing together people who are Latino/a, white, undocumented, citizens, residents, lawyers, house-cleaners, ministers, and workers in a bilingual meeting for organizing is a radical act. Our work happens both explicitly, in the events we plan, and implicitly, in our community-building.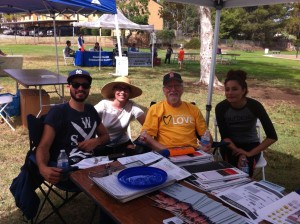 One concrete thing you can do is help with get-out-the-vote efforts. In the coming year, we will be partnering with North County Immigration Task Force in a non-partisan effort to register and turn out Latino/a voters in Escondido. Last month, Chalice member Dennis Brown and I knocked on doors to practice registering voters, and there will be more efforts like this open to you all in the months to come.
Why voter registration? Escondido is 49% Latino, but Latino communities have historically held little political power in this city. One reason may be that Latinos make up only 26 percent of Escondido residents who are citizens and old enough to vote, according to the UT. The large population of undocumented immigrants has felt targeted by policies like DUI checkpoints, document checks, and a 2006 ordinance that banned renting to undocumented immigrants. That last ordinance was overturned, but there is still a lot to do to make Escondido less hostile to its undocumented and/or Latino/a residents. Building a base of Latino/a and pro-immigrant voters is a step toward that goal.
Please also join us for a seminar on immigration after worship on Sunday, October 25. Our immigrant rights group is hard at work planning a basic orientation to immigration system. Bring your questions so we can plan future events that address what YOU want to know.
We have the power to change the landscape of North County, by bringing our spiritually-grounded, compassionate selves into healthy relationships with the communities most affected by immigration and economic policies. Let's be water in a dry and thirsty world.
With gratitude,
Elizabeth