On September 25th at 7:00 PM at Chalice we will discuss Moriarty by Anthony Horowitz.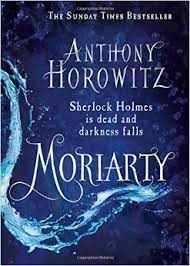 Days after Holmes and Moriarty disappear into the waterfall's churning depths, Frederick Chase, a senior investigator at New York's infamous Pinkerton Detective Agency, arrives in Switzerland. Chase brings with him a dire warning: Moriarty's death has left a convenient vacancy in London's criminal underworld. There is no shortage of candidates to take his place — including one particularly fiendish criminal mastermind. For Sherlock Holmes fans this relates the story line between the first death of Holmes and his reincarnation due to public demand a couple years later.
Please contact the Chalice office (office@chaliceuucongregation.org) with questions or to RSVP.
Chalice currently has three reading groups that meet monthly.  The Women's Book Club meets on the 3rd Tuesday, Readers' Theater gathers on the 4th Monday, and the Chalice Readers meet monthly on the 4th Friday. Find out what each group is reading in the month of August below.