On August 28th at 7:00 PM at Chalice we will discuss The Reef: A Passionate History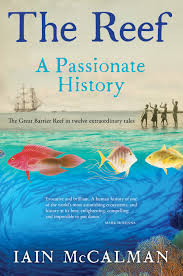 by Iain McCalman. The Great Barrier Reef can be seen from outer space, has been selected as a world heritage site and is labeled one of the seven natural wonders of the world, yet few know the social, cultural and environmental history behind it. The cast of characters memorable and diverse described here include Cook; coastal Aborigines; European castaways; Darwin; photographers, beachcombers, coral scientists and importantly the divers and activists who documented unregulated fishing, shipping, coral plunder and mining and opened the eyes of the Australian people to the wealth around them.
Newcomers are welcome. Please contact the Chalice Office for more information and/or to RSVP.
Chalice currently has three reading groups that meet monthly.  The Women's Book Club meets on the 3rd Tuesday, Readers' Theater gathers on the 4th Monday, and the Chalice Readers meet monthly on the 4th Friday. Find out what each group is reading in the month of August below.