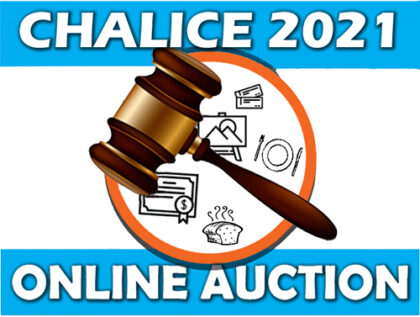 The New Year is here and it's time for the Annual Chalice Auction fundraiser. This year, for the first time, the auction will be held entirely online. It will be a new and exciting adventure.
The auction opens for bidding on Sunday, February 7 at 12 noon and ends on Sunday, February 14 at 9 PM. The auction website address is charityauction.bid/chaliceuu, where you can register, put in your donations, and bid. All donations must be in by Sunday, January 31.
This auction is our second most important fundraiser of the year, so we need everyone to participate by putting in your donations and then bidding. You can donate items or experiences, purchase opportunity drawings, or donate dollars.
Here are some ideas for Items and Experiences to donate. You could donate:
Services such as your time for driving others who need help
Online activities such as classes or concerts
Adventures such as sailing trips or tours
Treasures such as paintings, photography or jewelry
Arts and crafts, beautiful homemade items
Gift baskets of foods, wines, toiletries or other goodies
Gourmet foods
Gatherings such as dinners, brunches, wine tastings or chocolate tastings
Be creative and think outside the box for ways to offers these items and experiences virtually and together on Zoom until we can gather safely together in person.
If you have questions email the Auction Team at chaliceauction@gmail.com or call Judy Winn at 760-751-3543.
Video tutorials on how to register and how to donate are here: