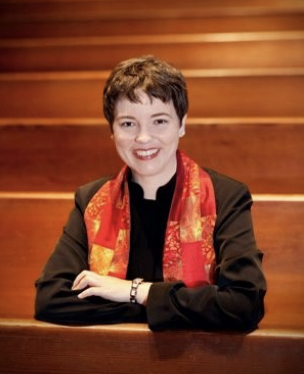 Sent to the congregation via email on May 30.
The public and horrifying death of George Floyd while in police custody this week has prompted protests around the country. If you are paying attention, and I hope you are, there is much to read, see, hear, learn, and think about.
Some of the protests have included acts of destruction and violence. It is not clear or obvious that protestors are the perpetrators of these acts. It appears likely that, at least in some cases, white supremacist terrorists are taking advantage of this moment to do harm.
The systemic failures of the police are on full display as militarized police forces do little to calm these situations.
As a white woman raised in a white supremacist country, I know that my response to the protests is supposed to be that I am "afraid" or "concerned." When faced with violent protest, white people are supposed to assert that only peaceful protest is allowed, and that the harm caused by protestors overshadows any harm they are protesting against.
But when I search my heart, I don't find fear or worry. Honestly, it seems right to me that there are protests across the country when a man has died needlessly and senselessly. We should be taking to the streets every day when such egregious injustice has occurred.
To our congregants who identify as people of color, much love and hugs to you. I know the burdens and worries you are carrying are heavy. Please remember, if you need reminding, that you are part of a community that is here to support you and that fights for justice with you.
To our Black congregants in particular, please know that I am here if you want to talk, or if there is any other way that I can support you right now. Please also remember that the Black Lives of Unitarian Universalism (BLUU) has a Facebook group for Black UUs to congregate together, support each other, and to discuss issues at https://www.facebook.com/groups/BLUUClosedGroup/.
As we look forward to changes we might like to advocate for in our own communities, there are two particular issues to keep an eye on:
The creation and implementation of Citizen Review Boards (CRBs) to conduct independent investigations into complaints of police misconduct. The failure—real or perceived—of police departments to adequately oversee their own misconduct has eroded the trust of the public.In particular, there is a coalition called "San Diegans for Justice" that plans to put a measure on the November 2020 ballot to replace the current Community Review Board on Police Practices with an independent Commission on Police Practices.Although many Chalice congregants do not live in the City of San Diego, as the largest city in our region, what San Diego does becomes a bellwether for smaller cities.
The budget. How much does your city spend to fund the police compared to funding for libraries, housing, and other services that support the community?
It is fortuitous or ironic or magickal or "just one of those things" that our worship service tomorrow morning is called "Taking a Breath." I hope you will be there to join in grieving and sharing together.
Blessings and love to each of you,
Sharon
To schedule an appointment with Rev. Sharon:
Online: https://calendly.com/revsharonwylie/
Text or call: 619.871.9959
Email: revsharonwylie@gmail.com