Steven Withers has been one of Chalice's Sunday worship musicians since 2016. We have just learned that he died unexpectedly on May 2, apparently from a heart attack. We will miss him. We will miss his smiling face. We will miss his music.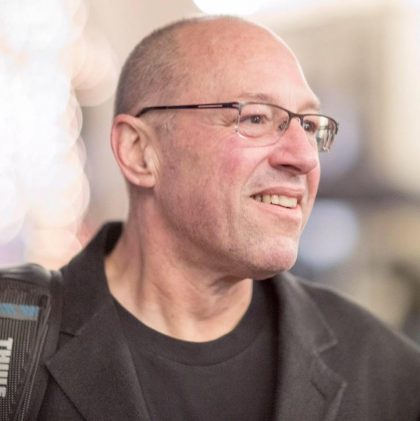 Steven Withers grew up in the Point Loma area of San Diego. He studied composition and performance at the University of Cincinnati's College/Conservatory of Music. Part of a rock band in San Diego in the '80s, he was playing professional theatre shows by the '90s. He toured with Michael Crawford, original Phantom of the Opera, rehearsed the Rockettes, and played on ABC's The View. In 2000, he moved to New York City to play Broadway shows and experience life "in that incredible city."
In 2004, Steven moved back to San Diego to rejoin his husband, Marc, who had to stay on this coast for his job. After his return to San Diego, Steven music directed shows for local companies, programmed synths and played musicals at local icons such as the Old Globe Theatre, La Jolla Playhouse, North Coast Rep, San Diego Musical Theatre, and San Diego Rep.
Steven said "I love the universal emotional power and spiritual depth music contains, and it is truly an honor to be a musician."