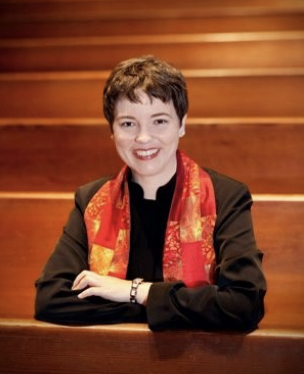 If you haven't been into the Fellowship Building Kitchen lately, please be sure to go in and check out our Connections Table. Which one is the Connections Table? It is next to the double doors and has a bulletin board hanging on the wall above it, with a sign reading "Connections Table."
This table and bulletin board are overseen by our Pathways Team (of which I am currently the acting chair). Pathways Team has a mission to prepare the congregation to welcome visitors and to accompany seekers along the paths to belonging. Some other church-like names for this team might be "membership committee" or "inreach team" ("inreach" is the opposite of "outreach").
But I think it's important that Pathways has a mission that's about helping people find belonging. "Belonging" is a powerful word, and it's what most people come to Chalice looking for, though that might not be the language that's most commonly used.
Those of you who have been at the congregation for many years have probably had times that your sense of belonging is strong, and then other times when your sense of belonging is weak. Especially those of you who can remember a time when the congregation was small enough that everyone knew everyone, it can feel very different nowadays to arrive on Sunday or to come to a special event and realize there are many people in the congregation that you don't know. Suddenly a place that previously felt like home may be a place where you feel like a stranger, especially as our recently-completed construction project has made the campus feel new to all of us.
The best way to nurture your sense of belonging at Chalice is to attend regularly on Sundays (of course!), to volunteer your time to making things happen, and to get involved with a small group. The Connections Table is one resource to helping with those last two items: volunteering and getting involved.
The Connections Table provides a central location to check out what's going on at Chalice. Hard copies of the monthly newsletter are there for you to take with you. There is a list of Chalice groups and activities, with contact information. There is information on volunteering for one of our Sunday morning hospitality teams (greeting, refreshments, and coffee). And there is a Pathways to Service Inventory you can fill out to connect with other volunteer opportunities at Chalice; your completed inventory is also returned to an envelope at the Connections Table.
What else will you find at the Connections Table? Justice Stones you can carry with you while you do justice work. Gender pronoun ribbons you can add to your nametag. The Caring Community pamphlet. Packets of information for considering membership. Recent issues of UU World magazine. The newsletter for Camp de Benneville Pines (UU camp in the San Bernardino Mountains). Chalice bookmarks. And more!
The next time you're at Chalice, head over to the Connections Table and see what's there!
Bright blessings,
Sharon