Saturday, November 16, 2019
10 am to 3 pm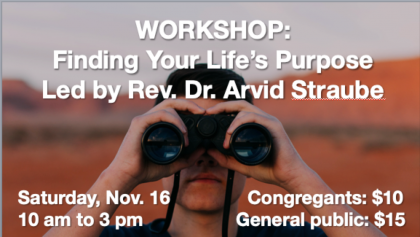 This workshop will give participants an opportunity to reflect deeply on the meaning and purpose of their lives. Participants will create a life mission statement and identify the most important roles they have. They will have a better understanding of the activities that can enhance their lives and legacies and which might be distracting.
Arvid Straube has been helping people grow spiritually for over 35 years, first as a parish minister, and now as a spiritual director.
Registration for this workshop and payment in advance is required. Please register here [registration closed].