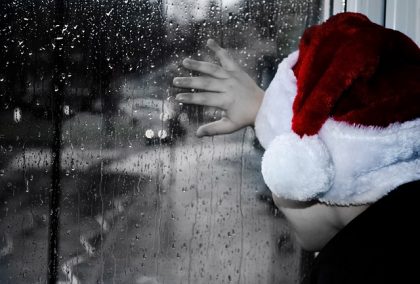 Beloved community,
It's not unusual to feel sad or "blue" at Christmas time.
A 2011 review of empirical studies found that mood worsens in December. Loneliness, anxiety, and helplessness rise. One study "concluded that one of the most relevant factors in Christmas depressions is the individual's belief in the myth that everyone else is having a good time and engaged in loving family relationships—clearly a wish, but not necessarily a fact."
Surely part of Christmas "depression" can be that grief over the death of a loved one rises afresh. Every holiday tradition is potentially a reminder of loss and absence.
The same 2011 review found that the number of psychiatric patients in emergency rooms and inpatient wards actually lowers in December, but then "rebounds" after the holidays. This suggests that people minimize the mental stress they are under and put off needed care and support until, after the holidays, they can bear it no longer.
If you are feeling blue this Christmas, I encourage you to recognize that fact and to think about the care and support you need to make it through the holidays the best you can. Grief.com suggests having a Plan A and a Plan B for the holidays. Plan A is to celebrate as you usually would, with friends or family.
But think about your Plan B. How might you celebrate the holidays if Plan A doesn't feel good or right this year? Maybe you want to go to a movie instead. Maybe you want to stay in your pajamas and eat leftover pizza at home. When you let go of how things "should" be, a whole new world opens up. Just having a Plan B and knowing you have choices can lighten the heaviness of obligation and tradition.
And if you are someone for whom the holidays are simply joyful, please keep in mind that not everyone feels that same way. Be aware of friends and family who may be struggling. Make time in your holiday schedule for coffee or lunch with a grieving friend. As we increase our festivities in December, sometimes we squeeze out time for simple caring and friendship. Don't let that happen.
Whatever your mood this December, I hope your connection to Chalice brings you strength and comfort as the year draws to a close.
Bright blessings, Sharon