Spirituality Groups for Adults
For each of these groups below, please call the office at 760-737-0393 or email the Office Administrator at chaliceuuc@gmail.com for the most accurate meeting times and days.
Calix Groups
Calix Groups meet for the specific purpose of developing a deep and lasting relationship among a small group of people. Through the process of listening and the sharing of life experiences a safe place is created for group members. The groups of 8 to 10 individuals meet monthly (for 21 months) to discuss a variety of subjects dealing with everyday life situations that can influence how each person conducts their lives. Each group meets at a designated location. New members are accepted throughout the cycle, but it usually takes a month to place an individual in an appropriate group.
Women's Buddhist Study Group
The Women's Buddhist Study Group focuses on mutual support and the practical implementation of Buddhism in order to enrich our daily lives. Our format is to check in, read aloud from our selected book, comment on, and discuss what we have just read, and then meditate for thirty minutes. Our readings about Buddhist practice and philosophy are written by contemporary writers and Buddhist teachers, and are chosen by group consensus. We meet in the chapel from 10:30 a.m. until 12:00 every Tuesday. Newcomers welcomed.
Yoga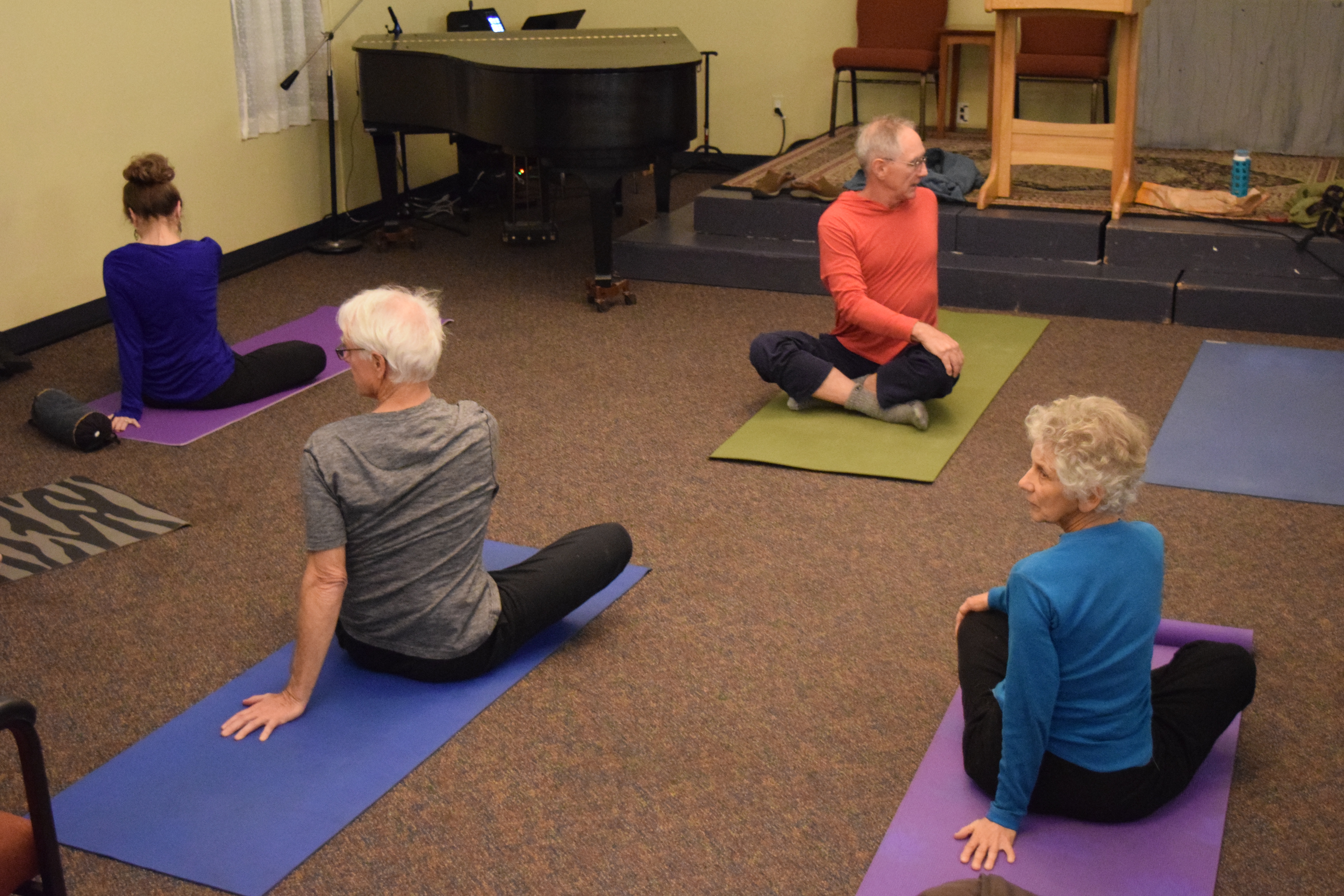 Chalice Yoga meets Tuesday evenings from 7:00 – 8:00 p.m.  We teach a beginning level hatha yoga class intended for all ages and ability levels, and we welcome newcomers at any time.  You should dress in loose, comfortable clothing and bring a yoga mat if you have one.  We also keep some yoga mats at Chalice for student use.  This is a fun, relaxed approach to yoga that will leave you feeling stretched, calm and happy.  We request a $5 donation to Chalice for each class if you are able, based on the Buddhist notion of "Dāna," or the cultivation of generosity as a virtue and a way of purifying karma.
Zen Meditation
Dr. Al Zolynas, Zen teacher, certified by Ezra Bayda and Elizabeth Hamilton of the Zen Center of San Diego in the lineage of the White Plum tradition, offers instruction and meditation practice weekly in the Chalice cottage. Everyone is welcome whether brand new or seasoned meditators. The format each Sunday is as follows:
3:00 – 3:30 – Newcomer instruction (feel free to invite your interested friends, family)
3:30 – 5:00 – Short dharma talk, Q & A, two 30-minute sitting meditations, a 10-minute walking meditation, daisan (individual meeting with teacher at meditator's request)