Do and Discuss
For each of these groups below, please call or email the office at 760-737-0393 or chaliceuuc@gmail.com, for the the most accurate meeting times and days.
Chalice Readers
Chalice Readers is not meeting at this time
Fiber Arts and Crafts Group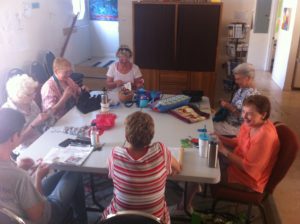 The Chalice Fiber Arts and Crafts Group meets monthly, on the 3rd Wednesday, from 1pm to 3pm in the common room at Chalice. We meet for friendship and mutual enjoyment of our work, primarily needlecrafts such as knitting, crocheting, sewing, embroidery, beading, or appliqué, but anyone with a craft that doesn't take a lot of space or cleanup is welcome. And if it does take a lot of space or cleanup, bring it anyway and we'll figure it out!
Contact:
Bonnie Packert bp931@hyperlogic.com
Women's Book Club
The Chalice Women's Book Group meets the 3rd Tuesday of every month at 7:15 at Chalice in the Common Room. We select books as a group and publish our annual reading list for all interested parties. Each month one member volunteers to lead our discussion but since we have many readers no one is required to assume this task. We always enjoy discussing the book and other topics, ideas, and experiences at our meetings. We invite all women readers to join us for a fun and stimulating evening.
Contact:
Dani Comer: danicomer13@gmail.com
Schedule:
February 20: News of the World by Paulette Jiles
March 20: A Spool of Blue Thread by Anne Tyler
April 17: Orhan's Inheritance by Aline Ohanesian
May 16: The Dry by Jane Harper
June 19: Pachinko by Min Jin Lee
July 17: Born a Crime: stories from a South African Childhood by Trevor Noah
August 21: This is how it always is by Laurie Frankel
September 18: The Weight of Ink by Rachel Kadish
October 16: Strapless – John Singer Sargent and the fall of Madame X by Deborah Davis
November 20: Little Fires Everywhere by Celeste Ng
December 18: Our Souls at Night by Kent Haruf
January 15, 2019: Choose books for 2019
February 19, 2019: The Alice Network by Kate Quinn